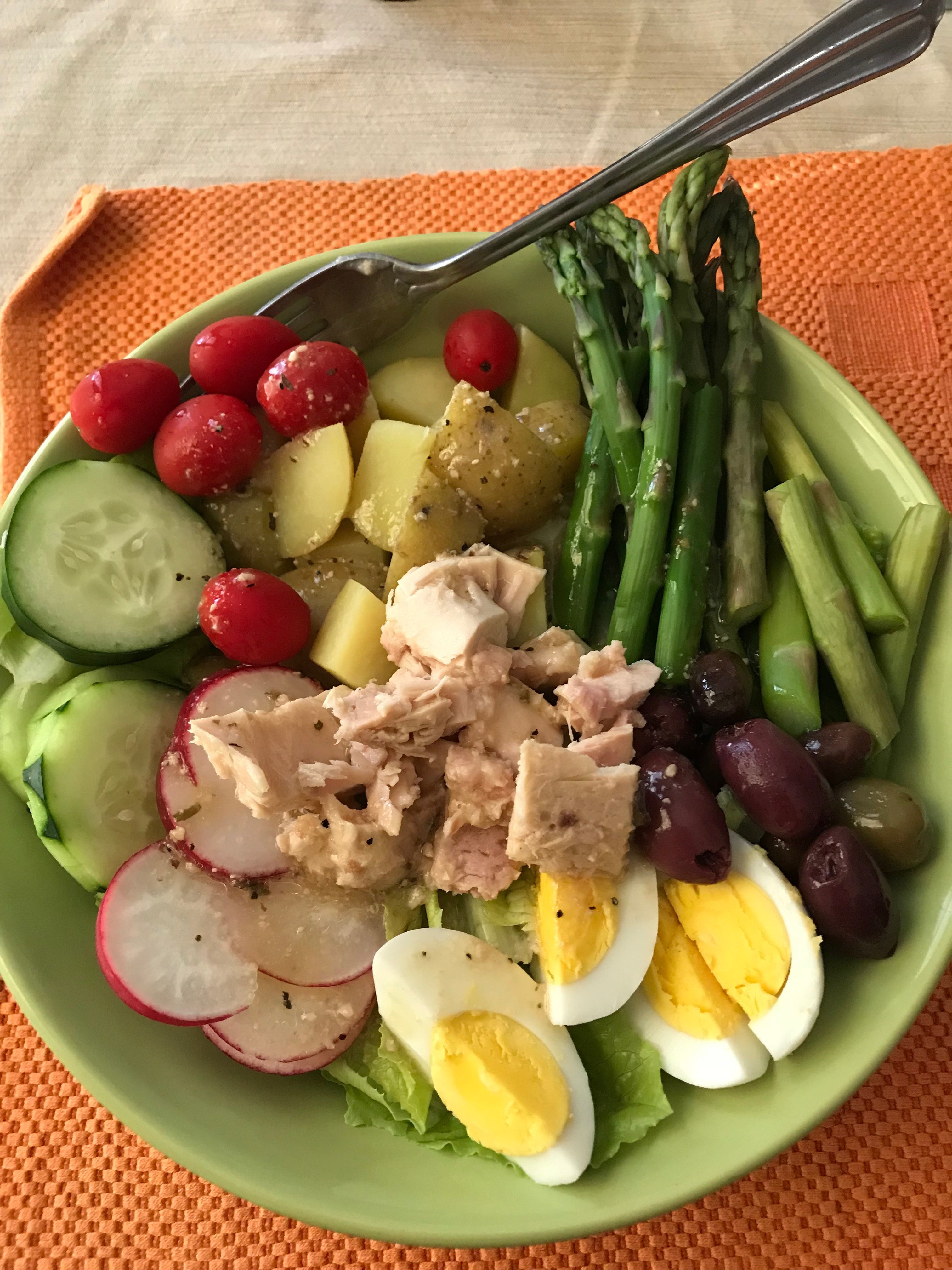 This is a great summer meal.. uses fresh veggies and needs just a little stove top cooking for a few of the ingredients.
serves 4-6 
INGREDIENTS 
FOR THE DRESSING: 
1 clove garlic 
Kosher salt, to taste 
⅓ cup olive oil 
2 tbsp. fresh lemon juice 
1 tbsp. Dijon mustard 
1 shallot, minced 
Freshly ground black pepper, to taste 
FOR THE SALAD: 
1 lb. small new potatoes, boiled until tender 
8 oz. green beans or asparagus, blanched or lightly steamed 
12 oz. cherry tomatoes, halved 
½ cup black Niçoise olives 
8 small radishes, trimmed and thinly sliced 
8 salt-packed anchovies, rinsed and drained (optional) 
4 hard-boiled eggs, halved lengthwise 
3 (4-oz.) cans high-quality oil-packed tuna, drained 
1 small cucumber, thinly sliced 
¼ cup thinly sliced scallions, to garnish 
romaine lettuce, washed, and spun dry 
INSTRUCTIONS 
1. Make the dressing: Mince garlic on a cutting board and sprinkle heavily with salt; using a knife, scrape garlic and salt together to form a smooth paste. Transfer paste to a bowl and whisk in oil, juice, mustard, shallot, and salt and pepper; set aside. 
2. Make the salad: Prepare a bowl for each person.Put a bed of romaine lettuce in each bowl, arrange other ingredients over lettuce; drizzle dressing over all ingredients, season with salt and pepper, and garnish with scallions just before serving.