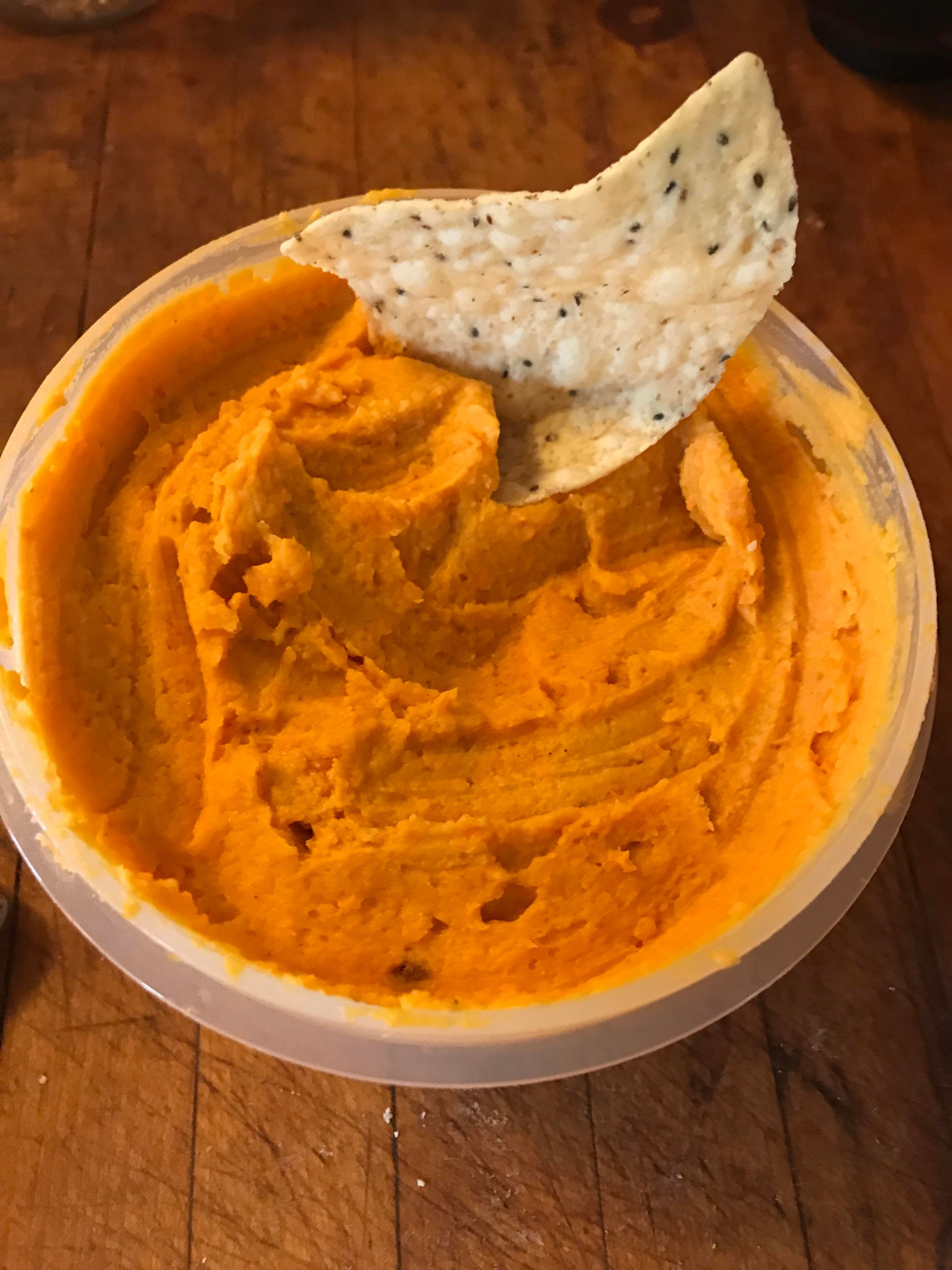 Super delicious and good for you too!  Roasted lemons make this hummus tangy.
Sweet Potato Hummus 
Ingredients: 
2 large sweet potatoes, peeled and coarsely chopped 
4 large garlic cloves, peeled 
2 lemons, halved 
2 T olive oil 
1 t slat 
1/4 c. tahini 
1/4 cup water 
1. Preheat oven to 375 degrees F. Line a rimmed baking sheet with parchment paper. 
2. Put the sweet potatoes, garlic and lemon halves on the baking sheet. Drizzle with the oil and sprinkle with 1/2 t salt. Toss with hands until the the vegetables and lemons are completely coated. Spread evenly on baking sheet and bake, shaking the pan every 15 minutes, until the vegetables are browned and tender, but not burnt. Remove from oven and let cool slightly. 
3. When vegetables are cool enough to handle, transfer sweet potatoes and garlic to work bowl of food processor, fitted with metal blade. Squeeze the pulp and juice from the lemons into a small bowl, pick out and discard any seeds, and add to the food processor, along with the tahini and the remaining 1/2 t. salt. Process until fully combined, stopping to scrape down the sides of the bowl when needed. With motor running, slowly stream in water through feed tube until the hummus is very smooth. Refrigerate in tightly sealed container for up to 1 week. 
This recipe come from OMD - Change the World by Changing One Meal A Day by Suzy Amis Cameron. (plant based recipes) 
The roasted lemons are a really nice touch. I added them to my Thanksgiving sweet potatoes along with coconut milk to make a creamy, tangy dish. 
UPDATE - I made this dish using my slow cooker. Eureka! No need to heat up the kitchen by firing up the oven during the summer. Here's how: Peel sweet potatoes. Cut them and the lemons in half, place in large bowl with garlic cloves and toss in 1 T olive oil. Wrap sweet potato and lemon halves individually in aluminum foil. Wrap garlic cloves together in 1 piece of foil. Place in slow cooker and add 1/2 c water to bottom. Cover and cook 6-7 hours on low or 4-5 hours on high. Remove and let col a bit, then unwrap and place in food processor. Proceed with rest of the recipe.