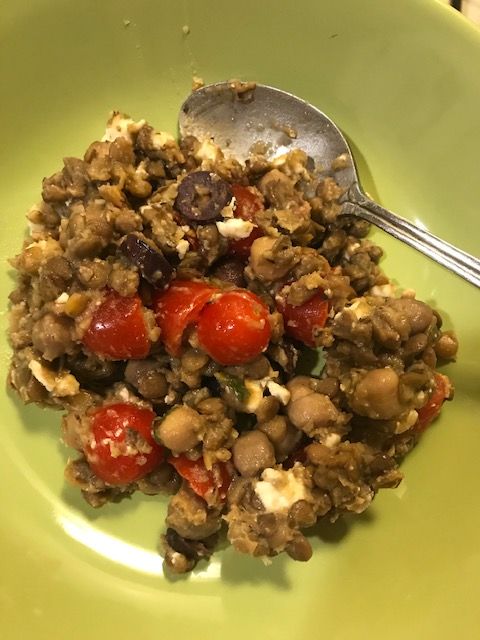 Warm Mediterranean Lentil Stew 
This is one of our favorite dishes. It's a slow cooker recipe - though you could make it on the stovetop. It is easy to make and really delicious.
Ingredients: 
·  1 3/4 cups vegetable broth 
1 (15 oz) can chickpeas, rinsed 
1 cup French green lentils, picked over and rinsed 
1/4 c. white wine vinegar 
1 teaspoon herbes de Provence 
Salt and Pepper 
1/2 c chopped fresh mint 
1/4 c extra virgin olive oil 
1 garlic clove, minced 
12 oz cherry tomatoes, halved or quartered 
1/4 c pitted kalamata olives, chopped 
2 oz crumbled feta cheese (1/2 cup) 
Directions 
1. Combine broth, chickpeas, lentils, 1 T of vinegar, herbes de Provence, and 1/2 t salt in slow cooker. Cover and cook til lentils are tender, 3-4 hours on low or 2-3 hours on high. 
2. Whisk mint, oil and garlic and remaining 3 T vinegar together in small bowl,; stir gently into lentils. Stir in tomatoes and olives and season with salt and pepper to taste. Sprinkle with feta and serve. 
I have made this without the mint, I have used parsley instead of mint. Still delicious. 
From America's Test Kitchen - Slow Cooker Revolution Cookbook.
PS - Rusty says he thinks this would be even better with 2 cloves of garlic. Spoken like a true Louisiana native.