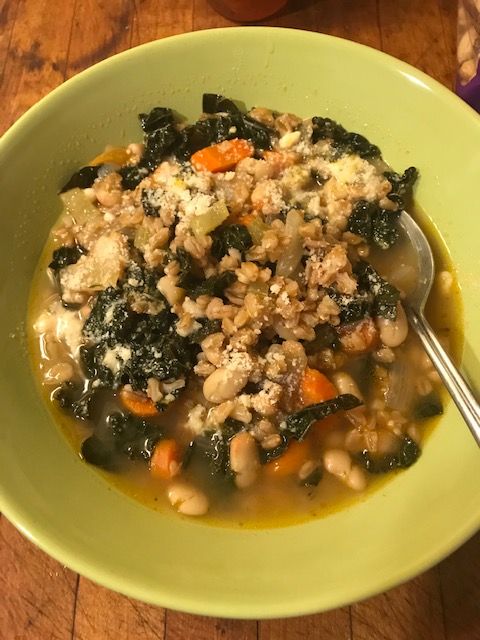 What is farro? It is an ancient wheat grain, and contains less gluten than modern day wheat. It has a nutty taste and is very nutritious - contains magnesium, zinc, iron, fiber and protein. In our house we call it "the ancient grain". Rusty gets excited when I tell him we are having the ancient grain for dinner. This is a hearty vegetable based dish. If you want more protein, you can top it with a fried egg, or add some sausage. So yummy!
Ingredients:
·  ¾ cup red wine vinegar 
·  3 Tbsp. olive oil, plus more for serving 
·  2 celery ribs, diced 
·  2 carrots, diced 
·  1 medium onion, diced 
·  2 garlic cloves, minced 
·  ¼ tsp. kosher salt 
·  2 Tbsp. tomato paste 
·  2 tsp. fresh rosemary, chopped 
·  6 cups vegetable stock 
·  1 cup semipearled farro (you could also used pearled barley)
·  1 pound collard greens, ribs removed and leaves chopped (or kale)
·  1 can white beans, drained 
·  ½ tsp. ground black pepper 
·  Grated Parmesan, for serving 
Directions 
Active time: 20 minutes 
Total time: 1 hour 
In a large pot, boil red wine vinegar over medium-high heat until reduced to 2 Tbsp., about 5 minutes. Pour into a small bowl and set aside. 
Rinse pot and return to stove over low heat. Add olive oil and, when hot, add celery ribs, carrots, onion, garlic and salt. Cover and cook, stirring a few times, until softened, about 10 minutes. Increase heat to medium high, add tomato paste and stir until shiny, about 1 minute. Add rosemary, vegetable stock and farro and bring to a boil. Simmer over low heat until farro is tender, about 20 minutes. Add collard greens or kale; cover and cook until tender, about 5 minutes. Add reserved vinegar reduction and white beans, and simmer 5 minutes. Season with black pepper. Serve in bowls, drizzled with olive oil and sprinkled with Parmesan to taste. 
From Oprah.com