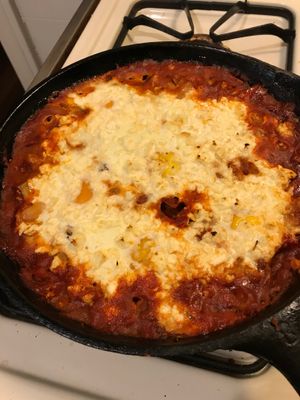 Shaksuka is a poached eg dish popular in northern Africa. It is often eaten for breakfast in Israel. This version uses canned artichoke hearts and is quick, easy and delicious.
Artichoke Shaksuka 
Serves 4 
Ingredients 
2 Tbsp. extra-virgin olive oil 
1 small yellow onion, thinly sliced 
1 red bell pepper, thinly sliced 
24-ounce jar of marinara sauce 
12-ounce jar of artichoke hearts, drained and quartered 
6 to 8 large eggs 
Kosher salt 
Ground black pepper 
1 cup crumbled feta or goat cheese 
2 Tbsp. chopped flat-leaf parsley 
Directions 
Active time: 15 minutes 
Total time: 30 minutes 
Preheat oven to 375°, with rack in center. Heat olive oil in a 10" cast-iron skillet over medium-high heat. When oil is shimmering, add onion and bell pepper and sauté until beginning to soften, about 5 minutes. Remove pan from heat and add marinara sauce and artichoke hearts. Crack eggs into sauce and sprinkle with generous pinches of salt and pepper. Sprinkle crumbled feta or goat cheese over pan. Transfer pan to oven and bake until egg whites are set but yolks are still slightly runny, 15 to 20 minutes. Scatter parsley over top before serving warm from skillet, family-style. 
Unbelievably good! -- Original recipe from Molly Gilbert's One Pan and Done. (which I may have to get if the rest of the recipes are as great as this one) 
Read more: http://www.oprah.com/food/artichoke-shakshuka-recipe#ixzz4xQZzW4DS