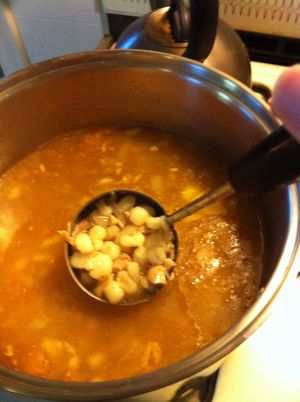 Happy New Year! I like to start the year off with the New Mexican tradition of Posole for luck in the coming year. Plus, it's delicious, especially on a cold day. And it's not that hard to make. Here is my recipe, adapted from the Feast Of Santa Fe cookbook - a great source for more New Mexican recipes. 
New Mexican Posole 
1 onion, chopped 
2 cloves garlic, peeled and chopped 
2 T vegetable oil 
1/2 t each of black pepper, ground cumin, cloves and cayenne 
1 and 1/2 lbs chicken, cooked and shredded or chopped 
2 or 3 cups canned white or yellow hominy, drained and rinsed 
3-5 cups chicken broth 
1 cup canned chopped green chiles 
2 whole jalapeños - if you like it hot! 
Salt to taste 
optional garnishes - see below 
In a large saucepan, heat the vegetable oil and saute the onion and garlic until they are wilted and begin to brown a little. Add the spices, stir for a minute, then stir in the hominy, broth, the green chiles and the jalapeños if you are using them. Bring to a boil, then lower heat and simmer covered till the onions and chiles start to disintegrate and the hominy kernels have puffed up and are tender, about 45-60 minutes. You can add the cooked chicken towards the end of the process. Add salt to taste before serving. 
The traditional recipe is made with pork and calls for the meat to be cubed and browned before sauteeing the vegetables, then added to the pot with the broth and spices and cooked in the broth. If you do it this way you will want to skim off some of the grease from the broth before serving. I like to boil a whole chicken the day before to make the broth, then strain and refrigerate till the next day. Then I make a double or triple batch of posole for my New Year gathering. One chicken is plenty of meat.
Optional garnishes: Set small bowls of finely shredded lettuce or cabbage, finely sliced radishes, chopped avocado, chopped fresh tomato (if in season), chopped fresh cilantro and lime wedges. 
Vegetarian version: Use vegetable broth or chicken flavored vegetable broth and omit the chicken. It's still yummy! 
Gringo version - Use 1/2 the amount of cayenne, and go easy on the green chiles and jalapeños - or omit them. 
This is a traditional New Year's dish in New Mexico and is believed to bring good luck for the coming year. I serve it every year on New Year's Day.