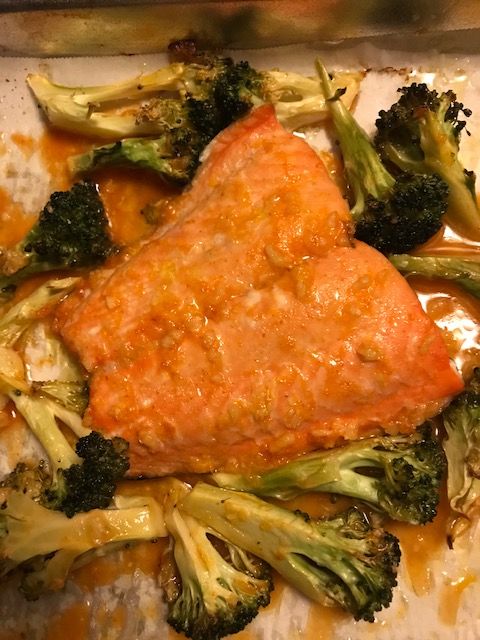 The sweet and spicy marinade makes this dish special and so tasty. You can make the marinade and chop the broccolini or broccoli ahead of time, then roast in the oven with the salmon and - voila! Dinner.
Ingredients:
2 teaspoons grated orange zest
1/4 c fresh squeezed orange juice (I used clementines - worked great!)
1/4 c plus 1 Tablespoon extra virgin olive oil
2 Tablespoons honey
1 Tablespoon hot sauce (Like Frank's or Cholula - or use Sriracha like I did)
1 T Dijon mustard
3 cloves garlic, minced
2 bunches broccolini, cut into 1/2 inch pieces
Kosher salt
4 (5 oz) skin-on salmon fillets
1 - Preheat oven to 375 F, with a rack in the center position. Line a sheet pan with foil or parchment paper.
2 - In a medium bowl, whisk together the orange zest, Orange juice, 1/4 cup of olive oil, the honey, hot sauce, mustard and garlic till smooth.
3 - Toss the broccolini with the remaining 1 T olive oil and a pinch of salt on the prepared sheet pan. Drizzle half the marinade over broccolini and toss again, spreading the broccolini in an even layer around the edges of the pan. 
4 -  Place the salmon fillets in the center of the pan and drizzle with the remaining marinade. 
5 - Bake until broccolini is crisp-tender and the salmon is just cooked through, about 20 minutes. Serve hot.
I have made this dish twice. The first time I used broccolini. The second time I used broccoli, cut into small pieces, and baked them for about 5 minutes before adding the salmon fillets, as I thought they might need a little longer in the oven than broccolini.
Both times the result was delicious. the marinade cooks down into a sweet sauce with a little kick to it. You can serve it with some rice or bread on the side to soak up that yummy sauce.
Recipe is from Molly Gilbert's One Pan & Done which I HIGHLY recommend. I am pretty much cooking my way through it.